In search of a healthy lasagna we attempted Zucchini Lasagna last night. As the name suggests, we replaced pasta with thin slices of zucchini. This is a great recipe to enlist the help of your kids to prepare. Our little chef Avery loved assembling the different layers of zucchini, tofu and ricotta and lastly tomato topping. This vegetarian dish was full of flavor and proved to be a great alternative.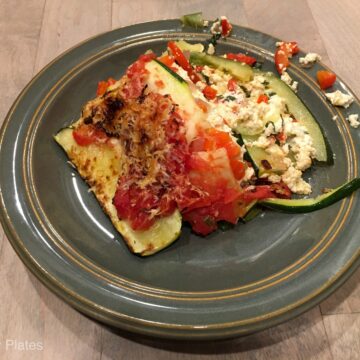 Ingredients
3

Zucchini

8" Long - Sliced into ¼" Strips

2

Red Bell Pepper

(Medium Size) Halved, Seeded & Thinly Sliced

1

Red Onion

Halved & Thinly Sliced

1

Lemon

Zested & Juiced

¼

cup

Basil

Finely Chopped

4

teaspoon

Olive Oil

½

cup

Ricotta

½

cup

Pecorino Cheese

1

8 oz pkg

Firm Tofu

Crumbled

2

cloves

Garlic

Minced
Seasoning
¼

teaspoon

Black Pepper

Freshly Ground

1 ½

teaspoon

Kosher Salt
Instructions
Preheat oven to 400 DegF.

Toss Zucchini strips in Olive Oil and a pinch of Salt. Layout flat onto a rimmed baking sheet. Toss Bell Pepper and Onion in Olive Oil and a pinch of Salt. Layout in a separate rimmed backing sheet. Roast baking sheets for approximately 20 minutes. Make sure to flip Zucchini Strips and stir Bell Peppers and Onions halfway through. Set roast vegetables aside and allow to cool. NOTE: Leave the oven on as it will be used later in the recipe.

In a medium bowl, combine crumbled Tofu, Ricotta, Lemon Zest, minced Garlic, Salt & ground Black Pepper and stir until mixed throughout. Lightly stir in the chopped Basil.

In a small bowl, combine the chopped Tomatoes, Lemon Juice, Salt & ground Black Pepper and stir until mixed throughout.

Finally, let's assemble the Lasagna. Oil an 8" Baking Dish and place about 6 Zucchini strips (overlapping slightly). Spread half the Tofu/Ricotta mixture over the Zucchini strips and then sprinkle a third of the Pepper/Onion mixture evenly across the top. Place 6 more overlapping Zucchini strips 90 degrees from the previous row. Spread the remaining Tofu/Ricotta mixture and sprinkle the second third of the Pepper/Onion mixture. Place the final layer of Zucchini strips parallel with the first layer.

Cover evenly the Lasagna with the Tomato/Lemon mixture and sprinkle Pecorino cheese. Bake for an additional 15 minutes. Change the oven to Broil and continue to cook until the Tomato/Lemon mixture starts to brown around the edges (~4-5 minutes). Remove the Lasagna from the oven and allow to cool for about 15 minutes before serving.
Nutrition
Calories:
203
kcal
|
Carbohydrates:
15
g
|
Protein:
11
g
|
Fat:
12
g
|
Saturated Fat:
5
g
|
Cholesterol:
29
mg
|
Sodium:
1064
mg
|
Potassium:
630
mg
|
Fiber:
4
g
|
Sugar:
8
g
|
Vitamin A:
2425
IU
|
Vitamin C:
119
mg
|
Calcium:
243
mg
|
Iron:
1
mg
Adapted from "Roasted Zucchini Lasagna" found within Supermarket Healthy by Melissa D'Arabian